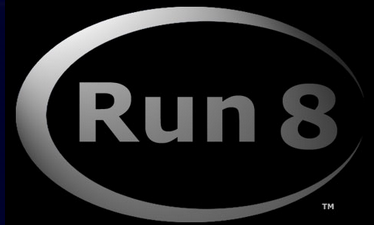 Welcome to the Run 8 Wiki
Run 8 Train Simulator.. Putting the TRAIN back in "Train Simulator"!
Run 8 Train Simulator
With over 108,000 Run 8 multi-player sessions operated since August 2012 Run8 with it's superior physics and operational capabilities continues to be the #1 Train Simulator of choice by real railroaders world wide!
And for you folks still sitting on the fence on whether to try Run8 or not, we have something to share with you. Recently we showed Run 8 to folks out at Barstow,CA at the Barstow Rail Festival and we had a Trainmaster from a Class 1 railroad come in and check out Run 8, John Greenstone spent 45 minutes with the guy, and he was very impressed with what we have done so far and before leaving he told John that Run 8 was much better than the program(s) that they were using to train their own engineers! Now how cool is that!
If you want to see how cool Run 8 is for yourself, you can do so by purchasing the 'Run8 BNSF Mojave Sub'(Tehachapi Pass) which includes the Run 8 Train Simulator platform!
EVERYTHING ON ALL THESE PAGES ARE COPYRIGHTED BY RUN 8 STUDIOS